Premium

Digital Signage

Solutions
Complete digital signage solution: Industrial-grade Full HD digital signage player, full-featured digital signage software, durable professional display, floor standing vertical and horizontal kiosk and tablet/iPad kiosk, installation & technical support throughout the year. Training and handout are provided for system administrator as well as end-user operational, non-IT staff. We have implemented successful projects with many government and private organizations nationwide since 2010.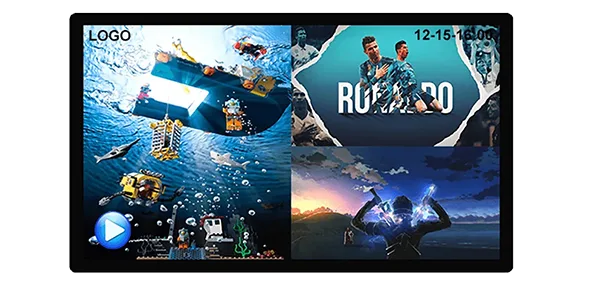 We have everything you need to start your digital signage project
Deliver your message, profesionally
Combine seamlessly fitting layouts, customize everything
What is Digital Signage?
Known as Digital Signage or Digital Boards, this technology is digital video content or digital images displayed on your screen. Digital signage, sometimes called electronic sign, refers to display technologies such as LED walls (or video walls), projection, and LCD monitors for displaying web pages, videos, directions, restaurant menus, marketing messages, or digital images in vibrant colors. One particular use for digital signage is out-of-home advertising, where video content, advertisements, and/or messages are displayed on digital signs, aiming to get targeted messages delivered, at a particular place and/or to specific consumers, at a particular time.
How do digital signage works?
Digital signage displays utilize content management systems and digital media delivery systems that may run on either personal computers and servers, or on regional/national media hosting providers. With digital signage, restaurants, salons, spas, car service shops, and fitness studios can provide rotating content and information on walls, windows, or an eye-catching digital screen. While paper menus or fixed displays are still common, businesses can artfully display their services offerings on a digital screen. Using and the Israk Content Manager Software apps, businesses can convert any Windows 10 device into a digital signage with a few simple clicks.
For what purpose I can use digital signage?
Because media screens utilize video and animations, as well as rotating graphics, advertisers can include digital signage content that features static advertisements, product demonstrations, or video testimonials. Digital signage can be used to deliver public information, transmit internal communications, or share product information in order to improve customer service, promotions, and brand recognition. With digital signage content, you can build an integrated emergency communications plan and keep up-to-date information across different screens in the structure.
What are the types of digital signage?
The four types of digital signage includes dynamic digital signage, automated digital signage, advertising digital signage and interactive digital signage.
How do you create a digital signage?
Set and justify measurable objectives. Define a particular audience. Create content that people will enjoy. Plan the location, installation, and timing of your content. Select hardware and reliable content management system. Examine your system's success.
What are the components of digital signage?
The digital display, the media player, the content management system or CMS and the content itself.
Why is signage important in business?
Signage is so important for the success of a company because it allows you to market and advertise your products and services and the business as a whole. Digital signage extremely effective business techniques, you must highlight your signage in order to differentiate your organization from others.
How effective is signage advertising?
Studies by InfoTrends indicate that signage can increase brand recognition by 47.7%, and increase average purchase amount by 30%. Importantly, this could also have a big impact on the customer's experience as well as boosting customer loyalty.
Our wide-ranging experiences have brought us to a knowledge level unsurpassed by our competition and allow us to provide the best services in the industry.
Various of our solutions have been recognized and successfully implemented in Malaysia since 2011. We emphasize quality products & services. With vast experiences in the industries and great project portfolios, we guarantee a cost-efficient solution according to your demands.