Video Conferencing System for Suruhanjaya Pencegahan Rasuah Malaysia (SPRM) 2021- Complete Solution
Client : Suruhanjaya Pencegahan Rasuah Malaysia (SPRM) | Project Date : 10-Apr-2023
We would like to express our sincere gratitude to Suruhanjaya Pencegahan Rasuah Malaysia (SPRM) for choosing our Video Conferencing Solution for their organization. As an independent, transparent and professional body, we understand the importance of clear and effective communication in carrying out your duties.
The challenge for SPRM was to find a solution that allowed for seamless communication among the various committees and panels that make up the organization. With the need for transparency and independence, a reliable and secure video conferencing system was essential to ensure effective communication while maintaining confidentiality.
We are proud to have provided SPRM with a Video Conferencing System Control Unit  CCS 900 Ultro System, Chairman Unit Long Microphone CCS-CML, Delegate Unit Long Microphone CCS-DL, Wall Projector Screen, and Mixer 10 Channel. These items were expertly installed and commissioned by our team to ensure smooth and uninterrupted communication.
We are delighted to have been able to assist SPRM in achieving their communication needs and goals. The successful implementation of this project in September 2021 is a testament to our commitment to delivering quality solutions to our clients.
Once again, we would like to express our appreciation to SPRM for entrusting us with this project. We look forward to serving you and other clients in the future, and we remain committed to providing the highest level of service and support.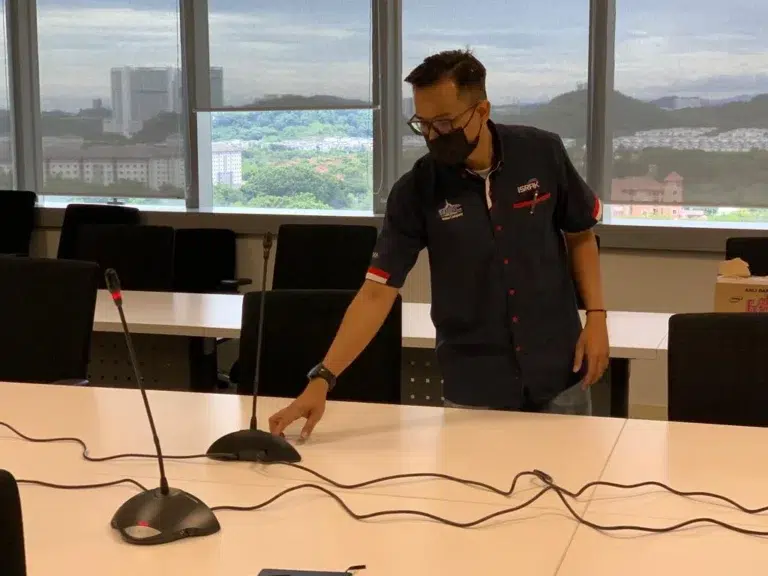 Image Gallery
About Our Solution
Our video conferencing solutions come with a range of features and capabilities that enable you to connect with colleagues, partners, and customers from anywhere in the world.
Our video conferencing solutions include high-quality cameras, such as our PTZ (pan-tilt-zoom) cameras, which provide superior image quality and remote control capabilities. We also offer all-in-one solutions that integrate a camera, microphone, and speaker into a single device, simplifying your setup and providing a more streamlined user experience.
Our 2-in-1 mic speaker solutions provide exceptional audio quality, making it easy for you to hear and be heard during video conferences. With advanced noise-cancelling technology, our mic speakers ensure that background noise is minimized, enabling you to focus on the conversation at hand.
Our team of experts works closely with you to understand your objectives and goals, enabling us to design and implement video conferencing solutions that effectively support your needs. We can provide end-to-end solutions, including hardware, software, and integration services, to ensure that your video conferencing solution is a success.