Videowall Implementation for Rejimen Semboyan Diraja, Sungai Besi – Complete Videowall Solutions 2022
Client : Rejimen Semboyan Diraja | Project Date : 18-Jun-2022
The Rejimen Semboyan Diraja, or the Royal Signals Regiment, is a combat support regiment of the Malaysian Army, with a crucial role in establishing and maintaining secure military communications channels for the command and tactical elements of the Malaysian Army. The regiment is responsible for all electronic support, electronic warfare, and early warning systems for the Malaysian Army, ensuring that the army is well-equipped to operate effectively in any situation.
Recently, the regiment embarked on a project to upgrade its board room by installing a modern and high-quality videowall screen. The project aimed to enhance the communication and collaboration capabilities of the board room, providing an immersive visual experience for presentations, meetings, and discussions .
To achieve this goal, the regiment decided to engage us with a proven track record in designing and installing advanced audio-visual systems. We proposed an Arvia videowall with a 2×2 size of 55 inches, accompanied by a pop-up bracket for easy storage when not in use. The videowall screen's configuration was through daisy chain, ensuring seamless integration with the existing systems in the board room.
The Arvia videowall was chosen for its exceptional visual quality and reliable performance, making it the ideal choice for the regiment's requirements. The 2×2 size of the videowall provides a larger viewing area, making it easier for everyone in the board room to view the visuals and presentations clearly. The pop-up bracket ensures that the videowall can be easily stored when not in use, reducing clutter and improving the overall aesthetic of the board room.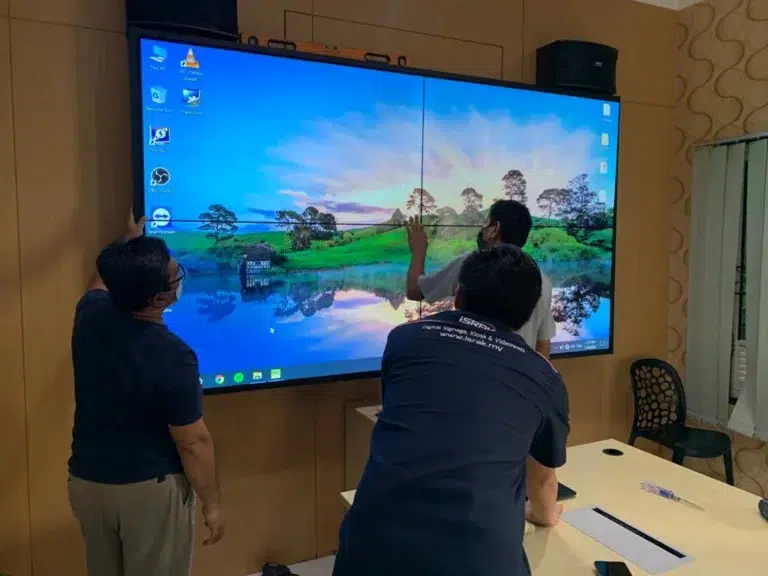 Image Gallery
About Our Solution
We offer innovative Videowall solutions that are ideal for creating impactful displays in a variety of settings, including public spaces, corporate environments, retail locations, and command centers.
Our Videowall solutions consist of high-quality displays that can be arranged in a variety of configurations to meet your specific needs. Whether you require a small, four-panel display or a large, multi-screen installation, we can design a solution that meets your requirements.
Our Videowall solutions come with advanced software and hardware that make it easy to manage your content and create stunning visual displays. With features such as content scheduling, real-time performance monitoring, and remote management, you can ensure that your display is always up-to-date and operating smoothly.
Our solution for command center videowall are IP based KVM, Modular controller and compact videowall processor. Apart from videowall display, we also supply additional accessories include pop up bracket, Control software and videowall controller.
Our team of experts works closely with you to understand your objectives and goals, enabling us to design and implement Videowall solutions that effectively support your needs. We can provide end-to-end solutions, including hardware, software, and content creation, to ensure that your Videowall is a success.